With the new version of Sklls Conversational AI Platform, the virtual callers have more advanced capabilities than ever before. We give you a brief introduction to what's new.
The new AI engine released by Sklls in December 2022 improves on the previous version by allowing for more dynamic conversations and human-like responses.
More human-like AI
One of the limitations of traditional chatbots is that they can only respond to predefined questions, known as "intents". Each such intent requires a list of examples of different ways to phrase the same question. If the user says something that doesn't match any of the intents, the AI will reply with one of the predefined fallback responses.
With the new AI engine, the responses are automatically generated by a powerful language AI.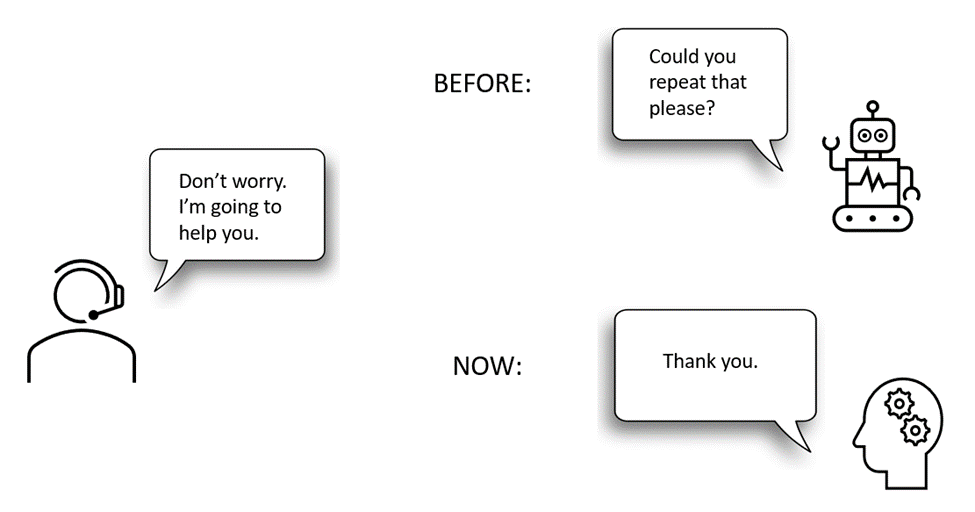 Instead of looking at each question in isolation, the AI uses the entire conversation and scenario as context to come up with a relevant response to what the user said. This feels much more like talking to a human.
Watch our YouTube tutorials to get an introduction on how to use this new technology.D
The AI can also give meaningful answers even to questions that are completely outside the scope of the scenario.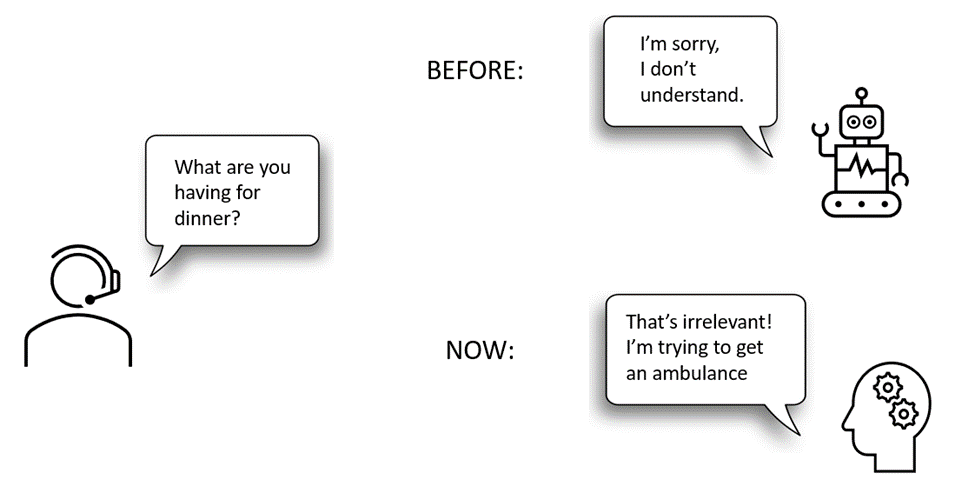 It also means that you can run the same training scenario multiple times and get a slightly different result every time. This can be an advantage for experienced operators practicing more advanced scenarios.
Faster up to speed with simpler scenarios
The new AI engine requires less human input in the form of intents and logically structured scenarios. This drastically reduces the time needed to create new scenarios. For busy organizations where time is a valuable resource, this is a big advantage when adopting a new technology platform.
By combining traditional intents with the new AI, you can get the best of both worlds: Structured conversations and the flexibility of auto-generated answers.
Multiple characters in a single scenario
Another feature in the new AI platform is the possibility to talk to multiple simulated people (or personas) in a single conversation. When you introduce a second AI character into the simulated phone call, you can have them respond with a completely different voice.
Benefitting from recent advances in AI
2022 has been a transformative year in AI. The state-of-the-art in language technology has improved very rapidly. The large language models that are available today have capabilities that would have sounded like science fiction just a year ago.
By always using the latest and greatest technology, we at Sklls hope to provide our customers with the best simulation training tools and empower our users to excel at their jobs.
To learn more about the AI used in Sklls, contact Chief Technology Officer Håkon Hapnes Strand at haakon@sklls.ai.